Untitled
Subscribe to posts
Elizabethtown Primary School
Supply Lists 2018-2019
Pre Kindergarten
Bookbag       

Bath Towel for Cot (no beach towel or blankets please)
Kindergarten
Crayons

Pencils

Pencil box or pouch

Bookbag

Child's Scissors

4 Glue Sticks

2 Composition notebooks (no wire)

2 Bottles of Glue

Writing Table (with dotted lines)

Clorox Wipes

Hand Sanitizer

Kleenex
**Kindergarten Classroom Wish List
Hand Soap

Ziploc Bags (quart and gallon)

Poster Board (any color)

Pony Beads

Pipe Cleaners

Expo White Board Markers
1st Grade
1 - 1 inch 3 ring binder (hardcover)

1 pocket folder

Large pink rectangle erasers

Crayons

Yellow #2 pencils

1 pack of letter size sheet protectors

Earphones or earbuds (student preference)
**For the Classroom (optional)
Clorox wipes

Facial tissue

Liquid Soap

Hand sanitizer

Snack size Ziploc plastic bags

Quart size Ziploc plastic bags

Gallon size Ziploc plastic bags
(Ziploc has Box Top labels)
*Purchase to keep at home
Second Grade
Pencils

Erasers

Glue sticks

Scissors

Rulers (showing inch (in.) and centimeter (cm)

Soft pencil pouch to hold supplies

Crayons

2 packs wide-ruled notebook paper

2 two pocket folders (to be left at school)

2 one subject spiral notebooks (to be left at school)

1 pack of colored pencils (Twistables are awesome, but not required)

Bookbag (no rolling bookbags please)
Wish List - Things We Use Often
2 packs of post-it notes (3x3)

2 packs of small post-it notes (1 ½ inch square)

1 pack of 3x5 inch index cards

Table wipes

Tissues

Hand sanitizer

Zip-lock bags...all sizes
3rd Grade
Notebook paper

4 one subject spiral notebooks

Pencils and Small Soft Pencil Pouch

Crayons/Colored Pencils

Glue stick

Scissors

Earbuds and Labeled with name
Wish List
Clorox wipes

Paper towels

Kleenex

Germ X hand sanitizer
4th Grade
2 Glue sticks (no liquid glue please)

Scissors'

2 packs of colored pencils

2 packs of crayons

(4 total)  Black and White Composition notebooks
                         1 for English Language Arts
    2 for Math
  1 for Social Studies & Science
Wide-ruled notebook paper

12 pack of pencils

Highlighters

Zipper pencil pouch (not box)

Bookbag

5 pocket folders
Wish List
Hand sanitizer

Kleenex

Band-aids

Lysol/Clorox Wipes
Congratulations Mrs. Linda Hayes for being elected Elizabethtown Primary School's 2018-2019 Teacher of the Year!
Kilowatt Kitchen is set to visit our school on 5/8/2018. This program is designed to help your students save energy through a fun educational experience—and we know your students will have a blast at the show.
But we have an important goal in mind: we intend to save 
10 million kilowatt-hours (kWh) of energy this school year. That may seem like a lofty goal – but we've done it before with the help of participating schools, and we intend to do it again!

To achieve this goal, every family at your school can request a FREE energy efficiency kit for their home from Duke Energy. When your families and staff request and use these kits in their homes, energy is saved – and we can measure it.
We invite your school to take the My Energy Kit Challenge:
save 20,000 kWh by reaching 100 kit requests.
Every school that meets the challenge will automatically win $250.
Plus, your school will earn another $250 for every additional 100 kit requests. And, in May 2018, the school that has requested the MOST kits will win the grand prize of $2,500.
To request your FREE kit and credit your school:
We can't wait to perform for your students! See you soon for Kilowatt Kitchen.
The National Theatre for Children
MyEnergyKit@nationaltheatre.com
*Duke Energy provides one Energy Kit per household over a 36-month period. Every unique kit request between July 1, 2017 and 

June 30, 2018

 will count toward school rewards. Non-Duke Energy customers can sign up to receive a partial kit. For complete more information, visit MyEnergyKit.org.
Follow My Energy Kit on Facebook for videos, news, and shareable updates for your school!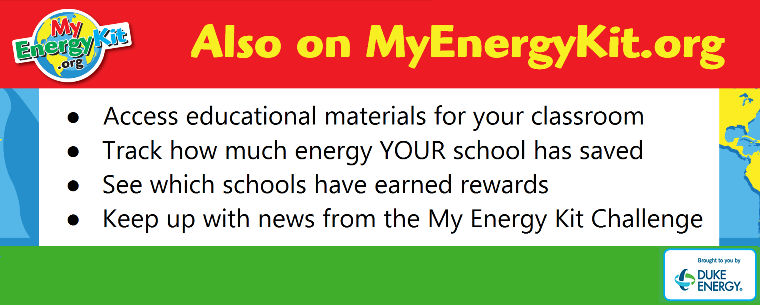 Please send in your Box Tops!   Thanks for supporting our school!
Please be reminded that students are required to follow the uniform policy set by the Bladen County Board of Education.
The School Improvement Team will meet on July 17, 2018 and July 18, 2018 @ 3:15  in the Media Center.